3. WHAT IS AFTERPAY?
Afterpay is currently available for all purchases online and in stores, with no minium spend.
Afterpay offers instalment plans for online shoppers within Australia. The payment platform allows you to purchase in four equal instalments, due every fortnight.
Simply choose Afterpay as your payment method at checkout. All of your payments are interest free and you will receive your online order straight away based on standard shipping time.
For additional information on returns please see our returns policy here.
You can also view the Afterpay terms here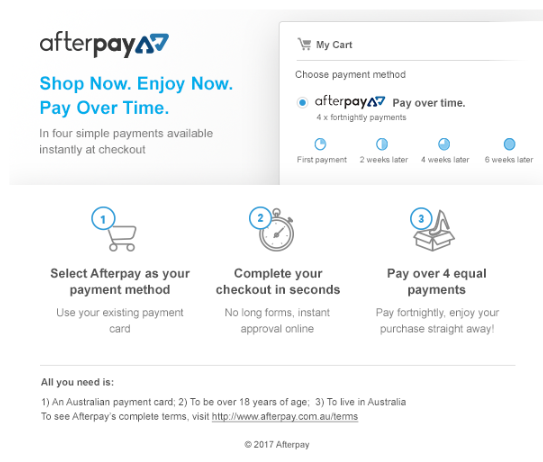 5. HOW DOES IT WORK?
At the checkout, simply select Afterpay as your payment option once you complete your shopping. You will be redirected to the Afterpay website to process your order.
Register or login into Afterpay to confirm your order. (Please note: The funds for the first payment must be available on your nominated card at the time of checkout).
You will then be redirected back to our website to receive your order success confirmation.
Each order is subject to Afterpay's credit assessment.
At any time, you can log in to your Afterpay account to see your payment schedule and make a payment before the due date. Otherwise Afterpay will automatically deduct the instalments from your nominated debit or credit card every fortnight.
To find out more, please visit the Afterpay website here
6. CAN I RETURN MY AFTERPAY ORDER?
Yes, our current online returns policy applies to all Afterpay online orders. Please see our complete Returns Policy here.

Any online purchase with Afterpay can be refunded or exchanged in our Sportsgirl stores. Whilst we do not offer exchanges online, if you wish to exchange your Afterpay purchase, you can do so in store.


For change of mind Afterpay returns, you will need to supply your original Sportsgirl receipt or order confirmation email.
With online refunds and/or in the event that an item from an Afterpay purchase cannot be fulfilled, your Afterpay balance will be reduced to reflect the new order total once the refund has been processed, which can take up to 5 business days.
For additional information, please view the Afterpay terms here
7. WHAT IF I MISS A PAYMENT?
For each payment that is missed, you will be charged a $10 late payment fee by Afterpay with a further $7 late payment fee added seven days later if the payment is still unpaid. Please see Afterpay terms and conditions here.
If you are going to have any issues with upcoming payment instalment please contact Afterpay in advance for assistance.
10. WHAT CARDS DOES AFTERPAY ACCEPT?
Afterpay currently accepts MasterCard and Visa credit and debit cards issued in Australia. Unfortunately Afterpay does not accept AMEX or any prepaid cards or foreign debit/credit cards.
11. WHEN WILL MY FIRST PAYMENT BE CHARGED?
All new Afterpay customers are required to make their first payment at the time of purchase. You will no longer be considered a 'new' customer once you have fully paid off your first order and 6 weeks have passed since you placed that order.
For online orders under $500 placed thereafter, your first payment will only be deducted 2 weeks after your purchase and your last payment deducted 8 weeks after purchase. For all orders over $500, your first payment will always be deducted 3at the time of purchase.
Download the Afterpay App for easy account access and management including to view your orders, make payments and manage account details.
12. CAN INTERNATIONAL CUSTOMERS USE AFTERPAY?
Please note that Afterpay is currently only available for online purchases within Australia online at Sportsgirl and in store. You must have an Australian credit card or debit card and address for billing and delivery.