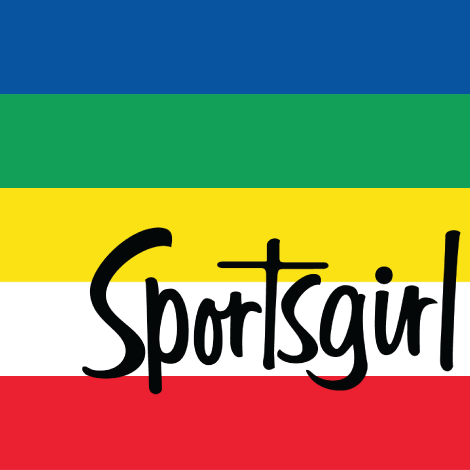 Self-expression is timeless.
The way it looks might change, sure, but for 75 years expression has forever been the Sportsgirl way.
It's why we've been in your wardrobe, your friendship group, your life from generation to generation - giving you the freedom and support to be your authentic self through it all.
Because that's what being a part of Generation Sportsgirl is all about, it's belonging to a group that grows, learns, evolves together, and knowing that no matter how you do you, we've got you covered.
READ #GENERATIONSPORTSGIRL'S LOVE LETTERS BACK TO US...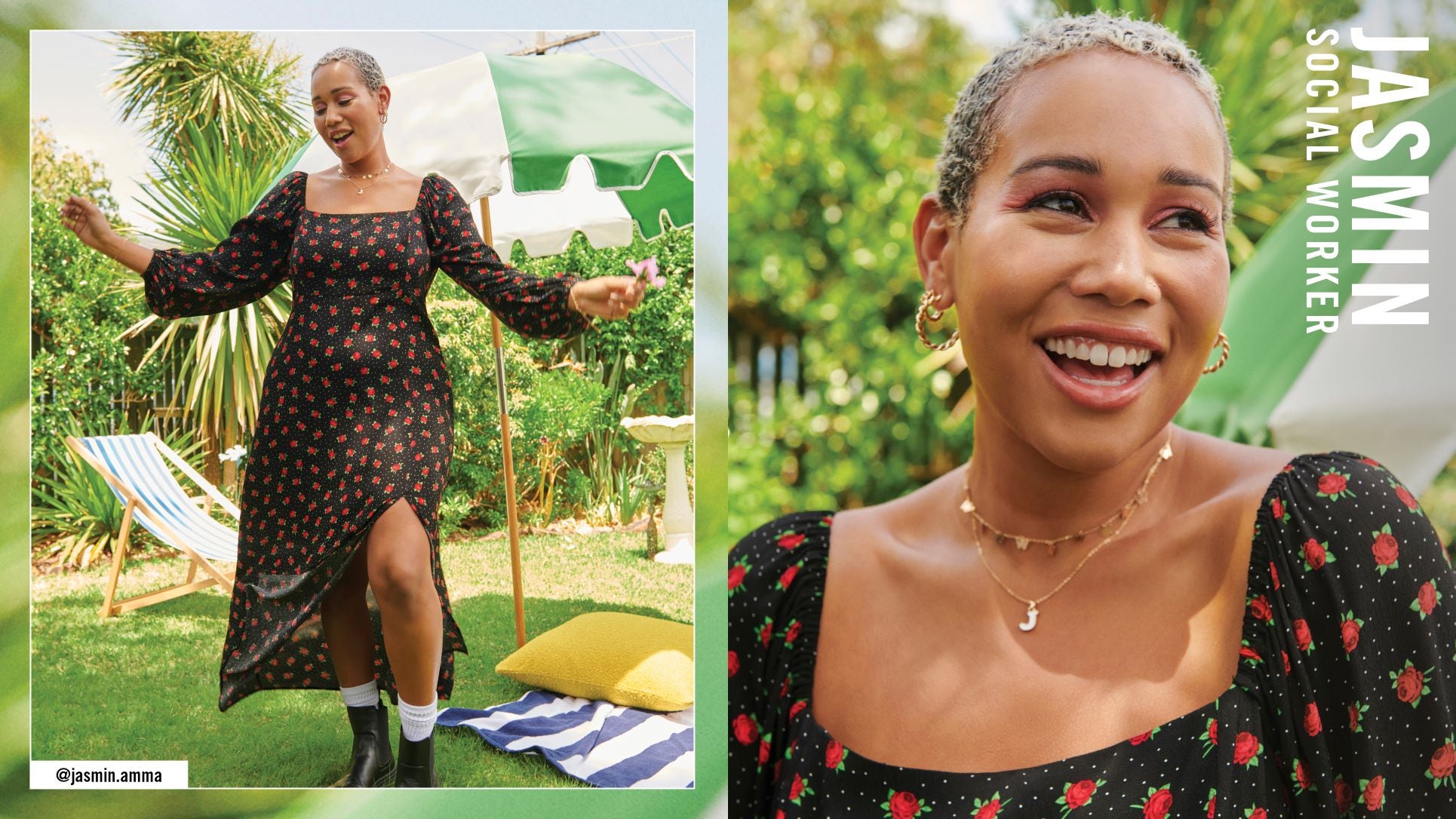 Dear Sportsgirl,
When I was a teenager, working a casual job, I'd save my money up, take the VLine to the city with my girlfriends and we'd lose ourselves in a sea of sequin shoulder pads, bright nail polish and synth pop.
I didn't have much money, so I'd opshop to create looks, and if I could get an item from Sportsgirl, it was a total treat!
At the time, I really wanted to work in a Sportsgirl store. I would see the gorgeous people working in there, they looked incredible, glowing in their Sportsgirl bronzer and cut off denim shorts.
I sometimes felt like I didn't fit in with that look. I would see the models in the posters and I couldn't see me.
It's a full circle moment, to be writing my love letter to Sportsgirl as part of this beautiful campaign.
Shooting with Sportsgirl over the years has been especially important to me, because perhaps I can be that girl for the people out there, the little Jasmin Ammas from a small country town, that sometimes don't feel they fit in.
It's a pleasure to be here with such an amazing group of inspiring people!
Thank-you for having me Sportsgirl!
Love, Jasmin Amma xox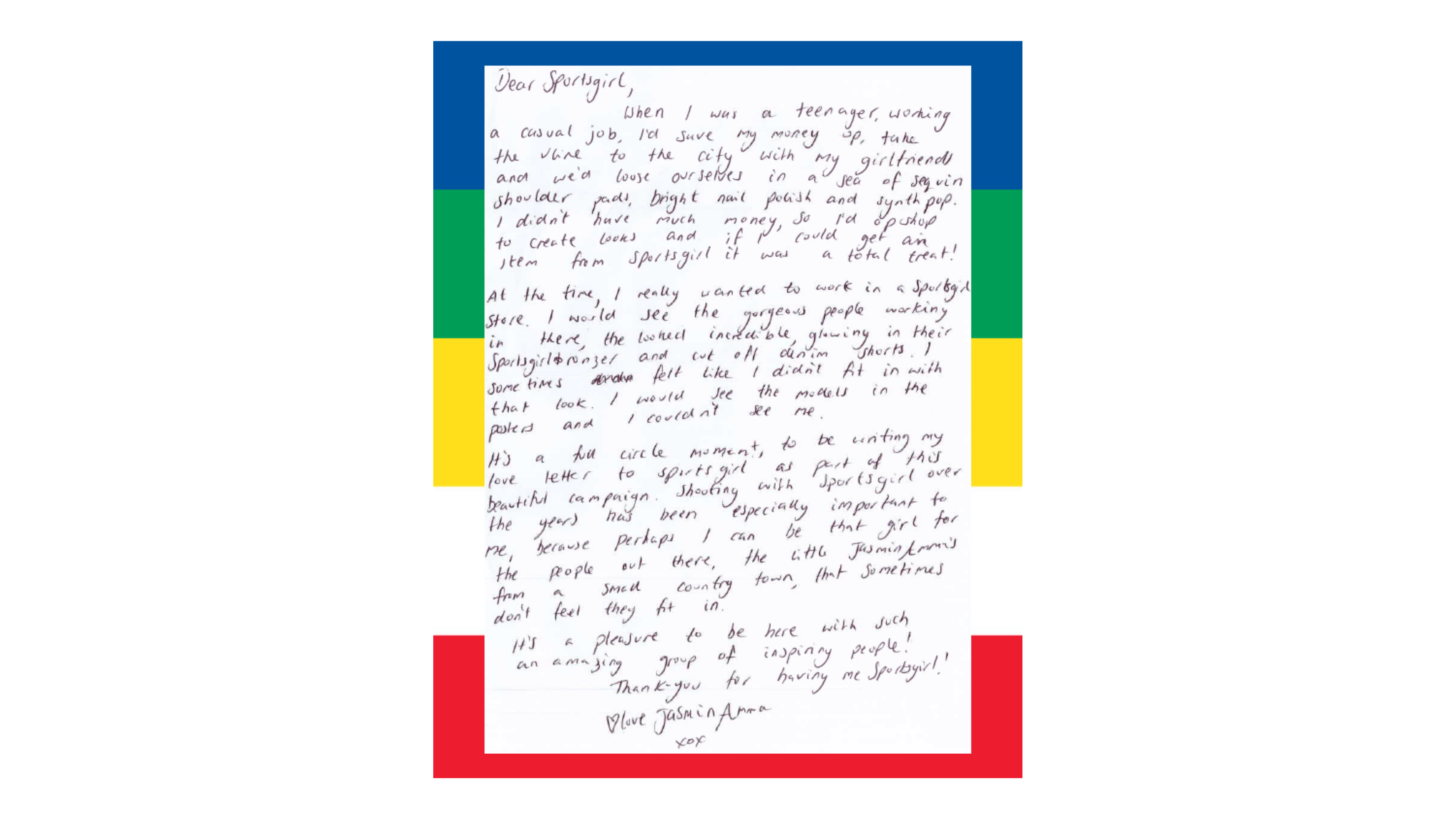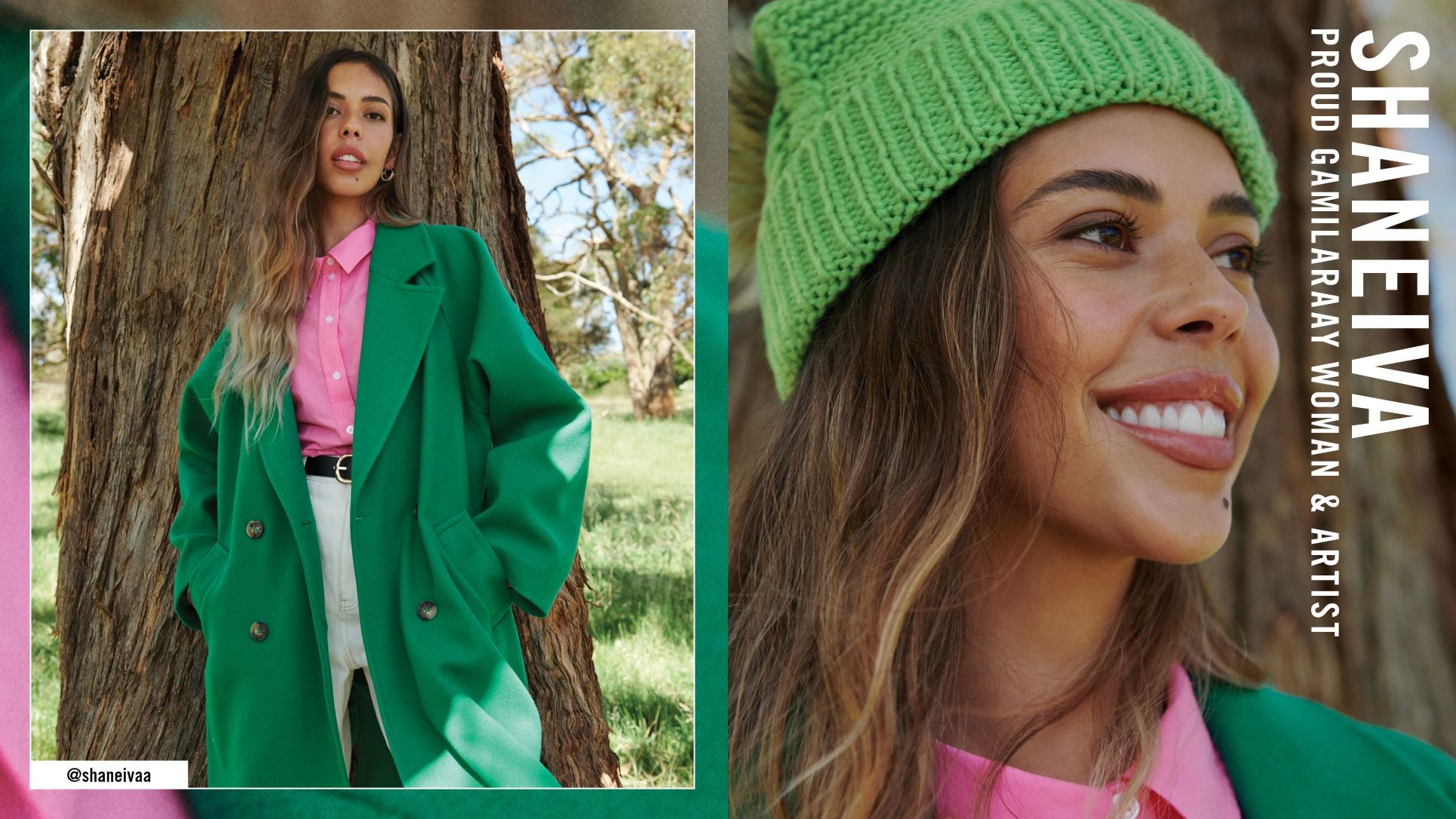 Dear Sportsgirl,
In a world that has tried to silence me and tell me what I need to be, thankyou for giving me a safe space where I could simply be me.
Thankyou for making me feel seen and heard, and for making me feel like my voice actually matters in this world.
Sportsgirl, you have been a friend to me, but in some ways I could even say that you've been family.
Thankyou for bringing me into the sisterhood of Sportsgirl. <3
Love, Shaneiva <3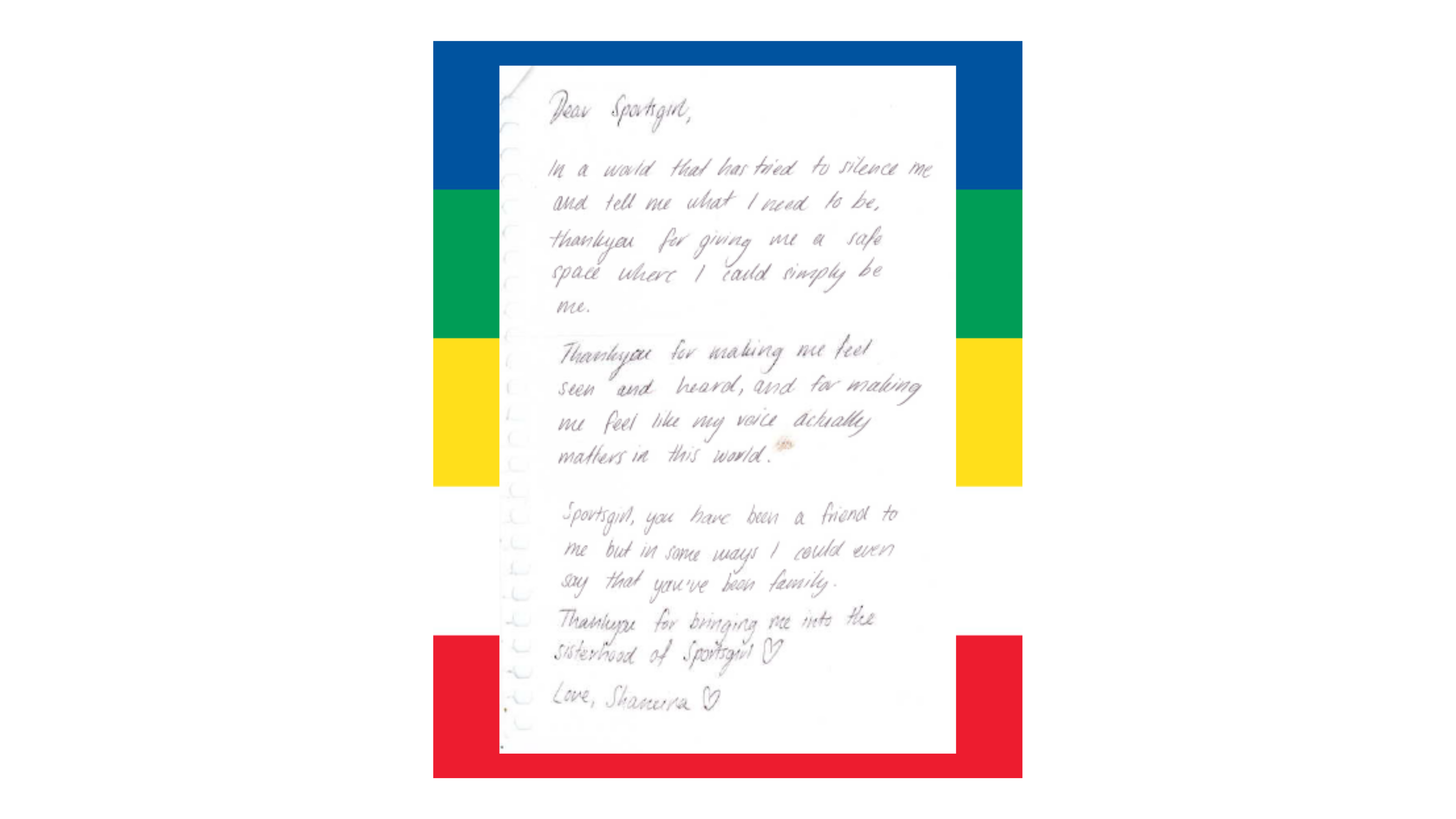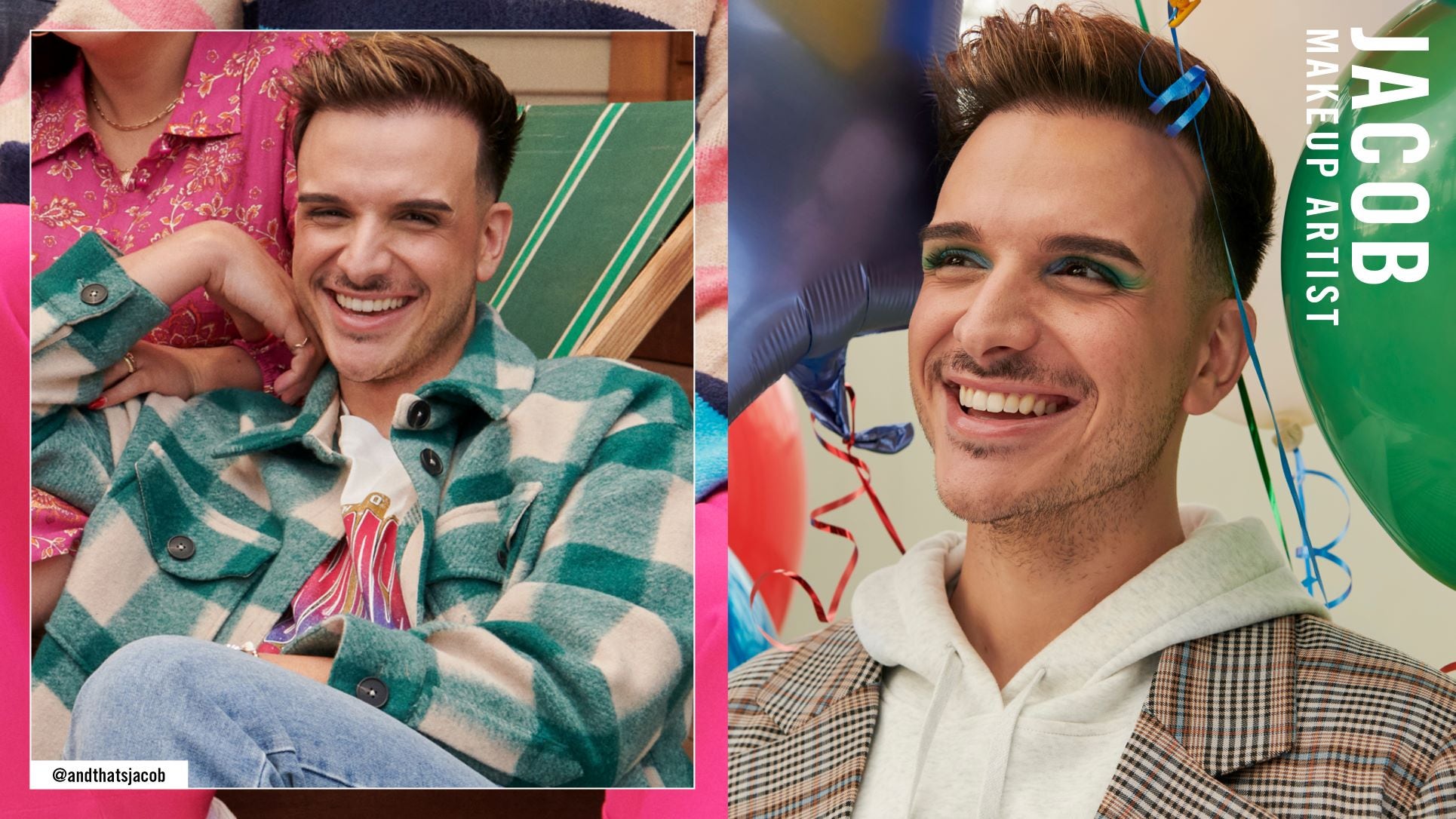 Dear Sportsgirl,
I first found you when I was a teenager. My girlfriends and I always stopped by, every shopping trip, no matter what.
When I was discovering who I was and started to experiemwent with my style, I could always rely on you to help me along my self-discovery journey.
I don't think my life would be the same without you if I didn't find you when I was a teenager.
Even in the beginning of my career, Sportsgirl Beauty was one of the first brands I stocked in my kit. Working with you every single day has been nothing short of a blessing.
Love, Jacob <3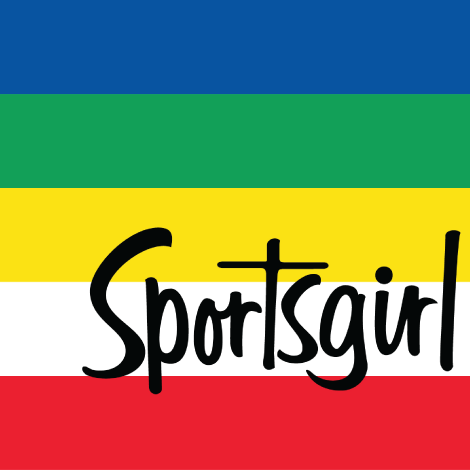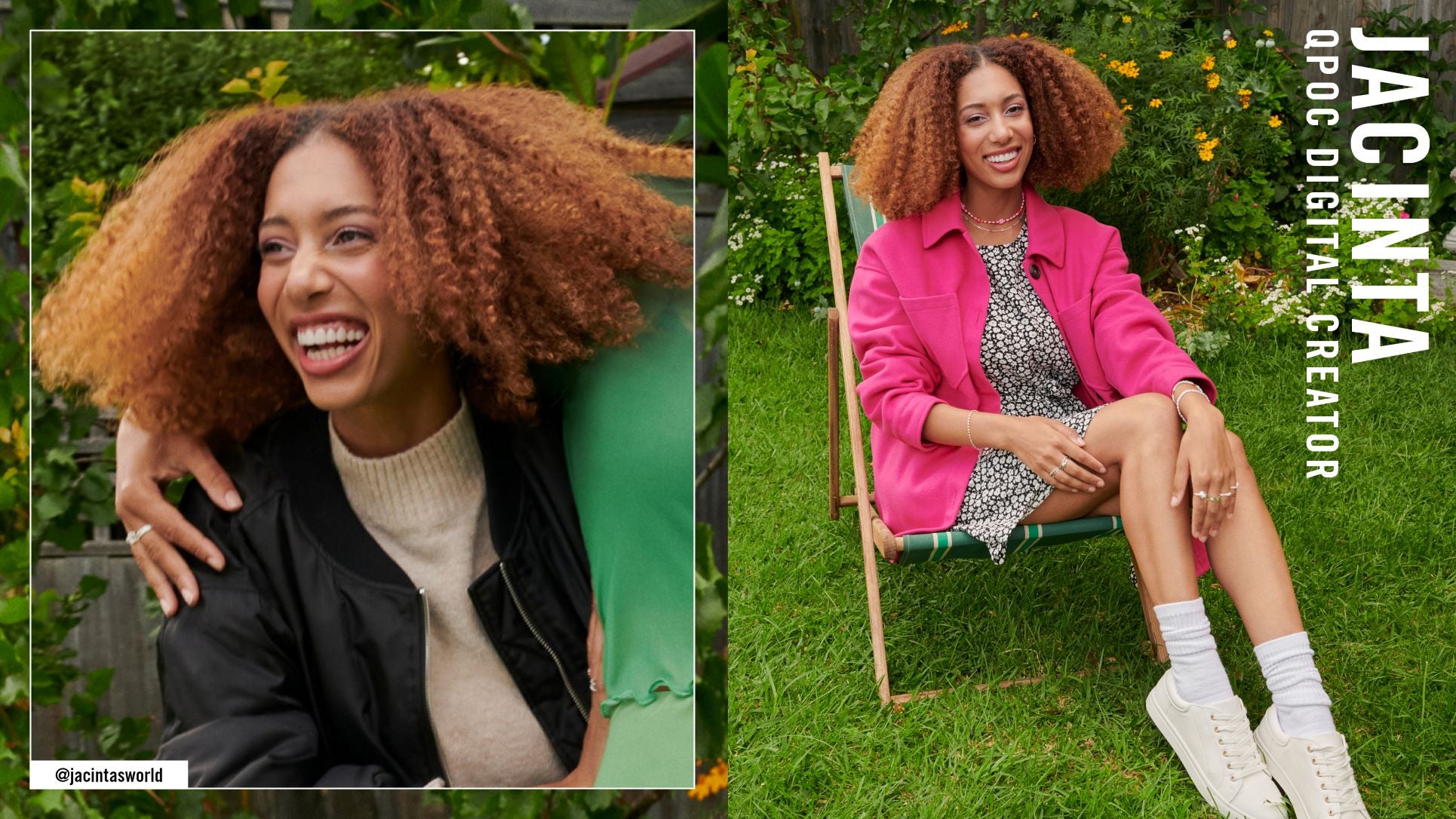 Dear Sportsgirl,
Here I am writting this letter looking back at the journey that you helped me begin...
Not only as a fashion lable, but as a community, I was able to explore individuality & empowerment being a queer person of colour living in Australia.
Whether it be a trip to the beach in a two-piece & sunnies, or a movie night in an oversized t-shirt and jeans. You were the one that helped me express my identity. :)
You are kind, empowered and dedicated to making a real difference in the world.
Love, Jacinta <3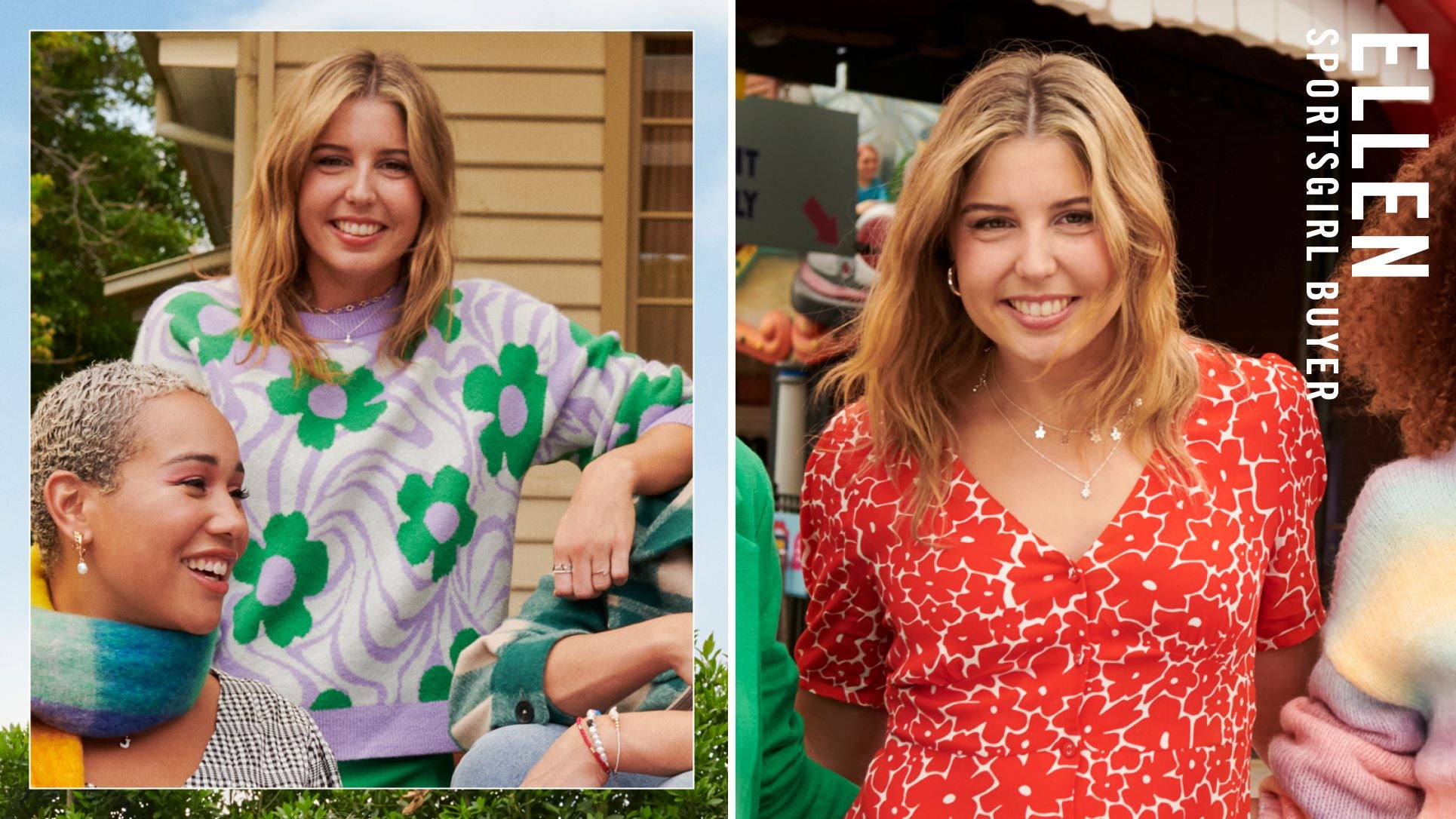 Dear Sportsgirl,
Thank you for accepting me as me.
You were the clothing store I could always turn to when I was growing up. You have been a welcoming space that I could always find clothing or accessories that I was comfortable to be myself in.
I grew up dreaming to work here, and after joining the team 2 years ago it has exceeded all expectations. I look forward to coming to work each day and being part of an amazing team.
I'm so, so proud to say I work here.
Love, Ellen.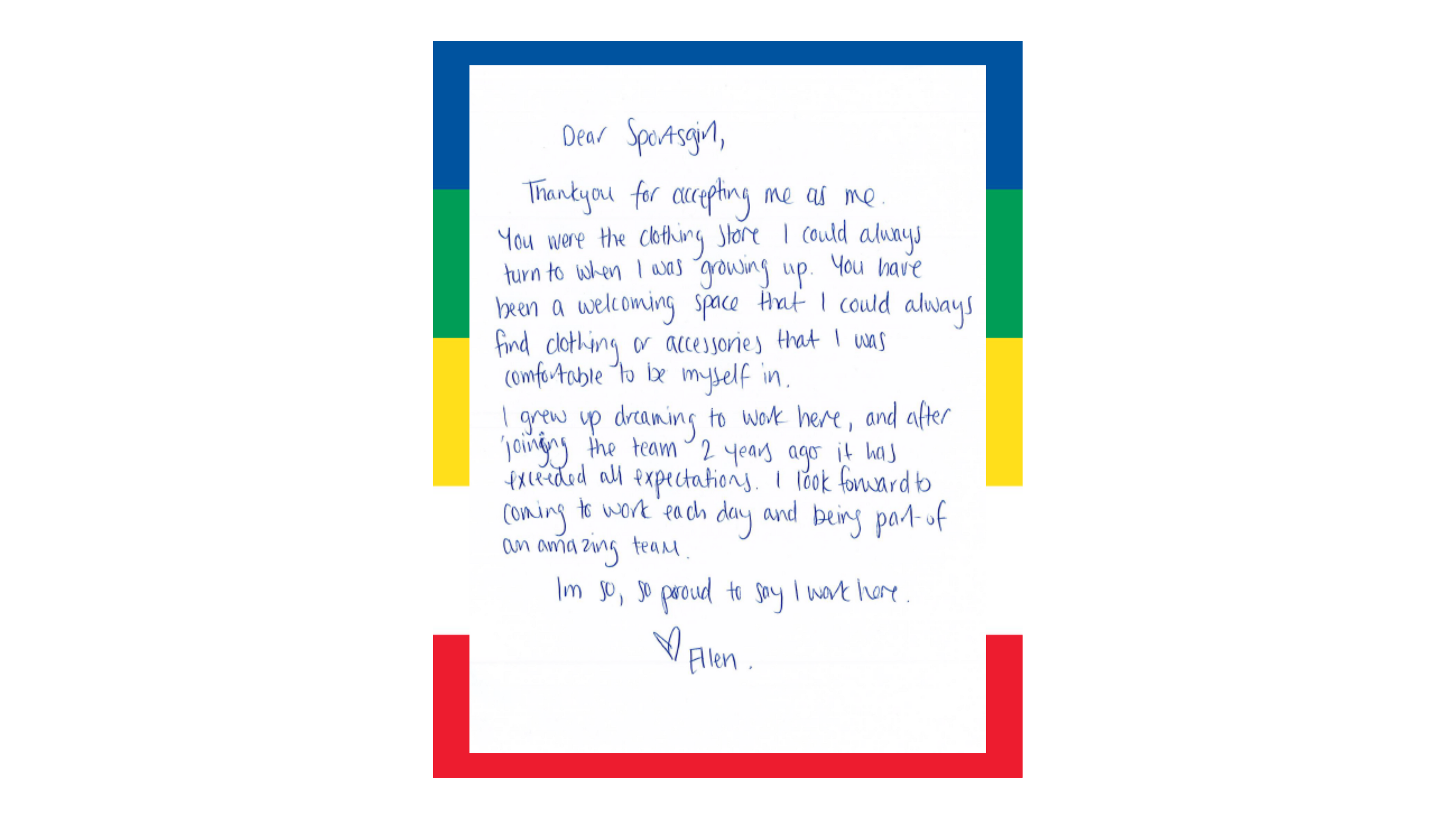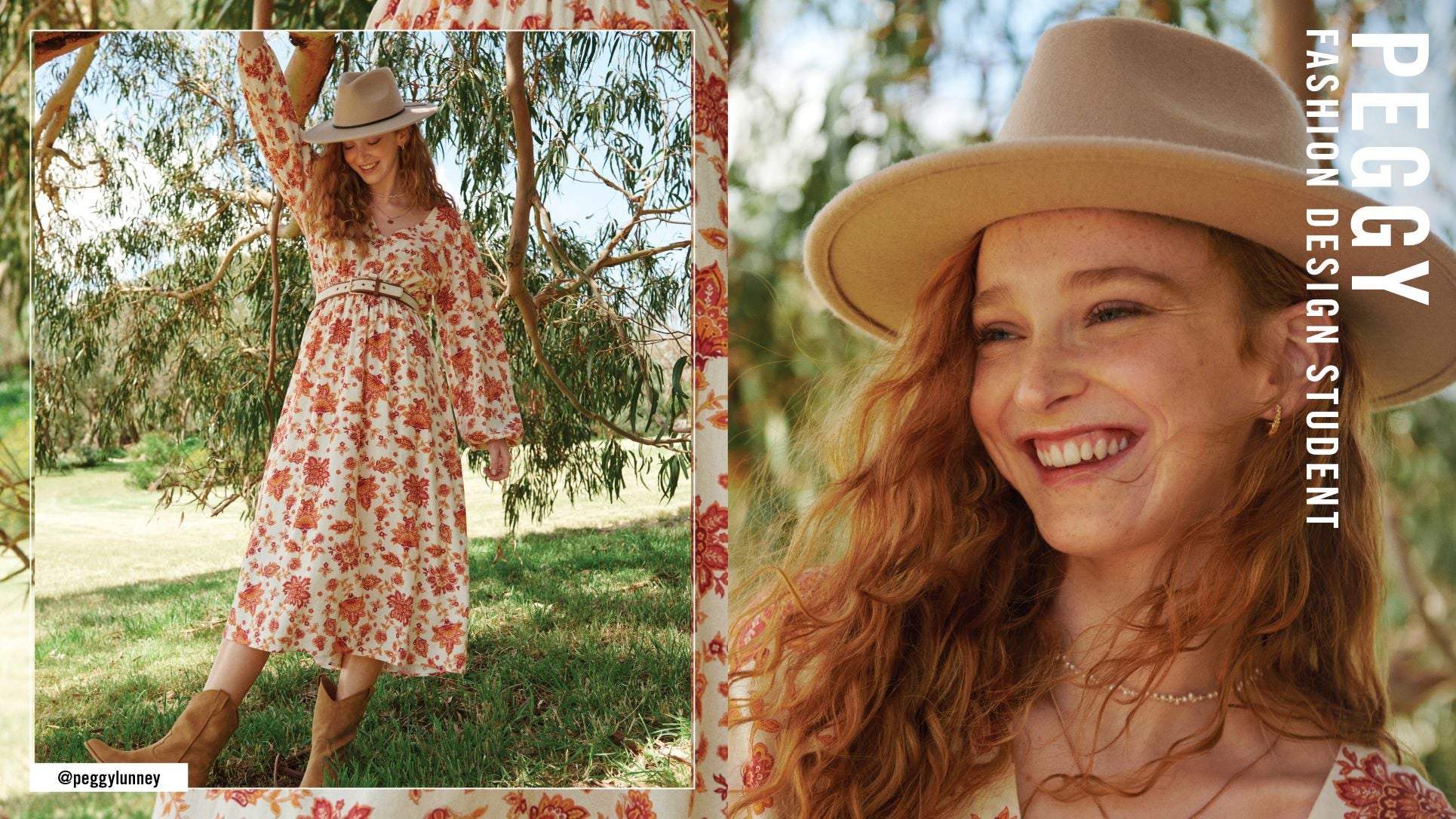 Dear Sportsgirl,
Growing up as a tween/teen in Australia meant growing up with Sportsgirl. Sportsgirl embodies Aussie childhoods. I used to save up my money from Santa and the Tooth Fairy and go on shopping dates with my best friend, heading straight to the beauty section in the nearest Sportsgirl. Various neon nail polishes branded with Sportsgirl was usually my go-to.
I want to thank Sportsgirl for all the years of giving me the space to explore and discover what woman I am and what style I wish to try on.
I have seen myself mirrored back to me through Sportsgirl, she feels like a friend, growing alongside me, evolving into the diverse, empowering brand she is today.
Thank you Sportsgirl for making me feel seen and safe to explore my style through you. From alternating neon pink and green nails, to the latest outfit. She allows me to be myself.
Love, Peggy xoxo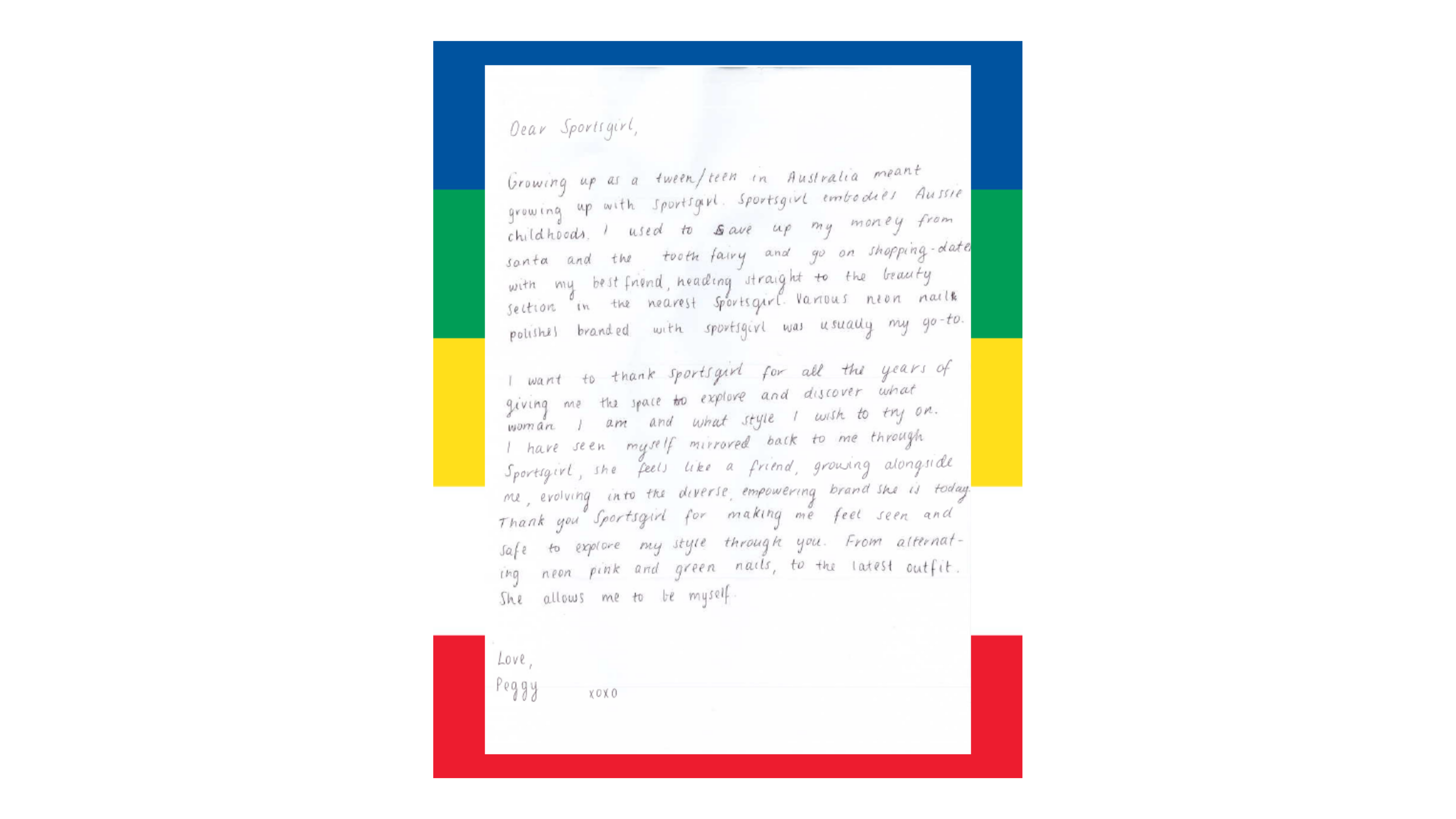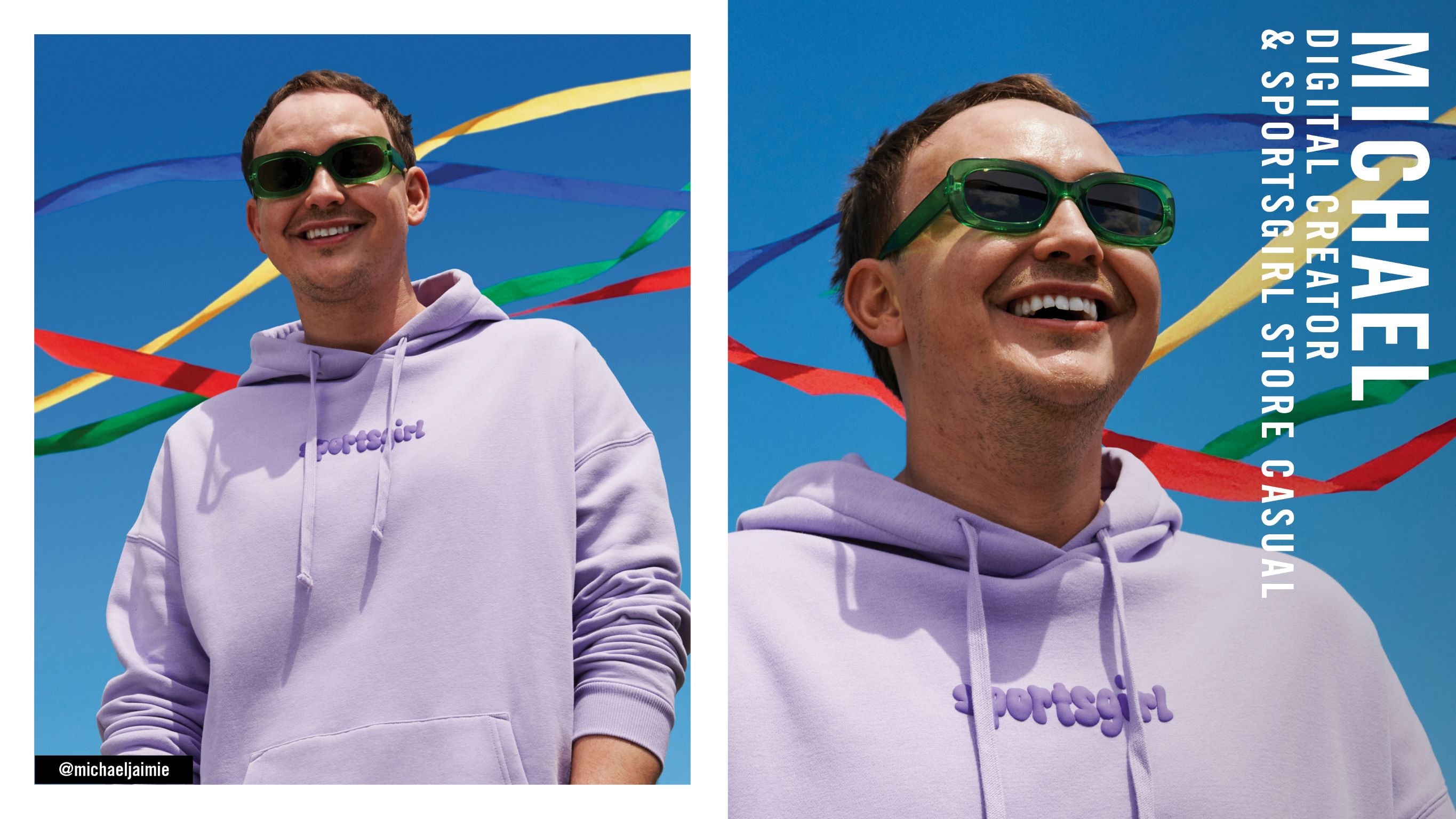 Dear Sportsgirl,
Our love story began 15 years ago when I was a teenager growing up in the country, travelling 3 hours to the nearest Sportsgirl to buy my first tube of lip balm, my first bronzer compact, and of course my first bottle of Body Glow.
The in-store experience from the music, to the makeup, and of course the fashion sparked my creativity and gave me the confidence to express myself - Sportsgirl taught me that you could take risks and embrace your personal style and that has stuck with me ever since. This is a sentiment I've heard from so many customer and colleagues in my years working for the stripes.
My biggest hope is that the newest generation of Sportsgirls (and Sportsboys) can believe in themselves, dream big and trust the process - you've got this.
Love, Michael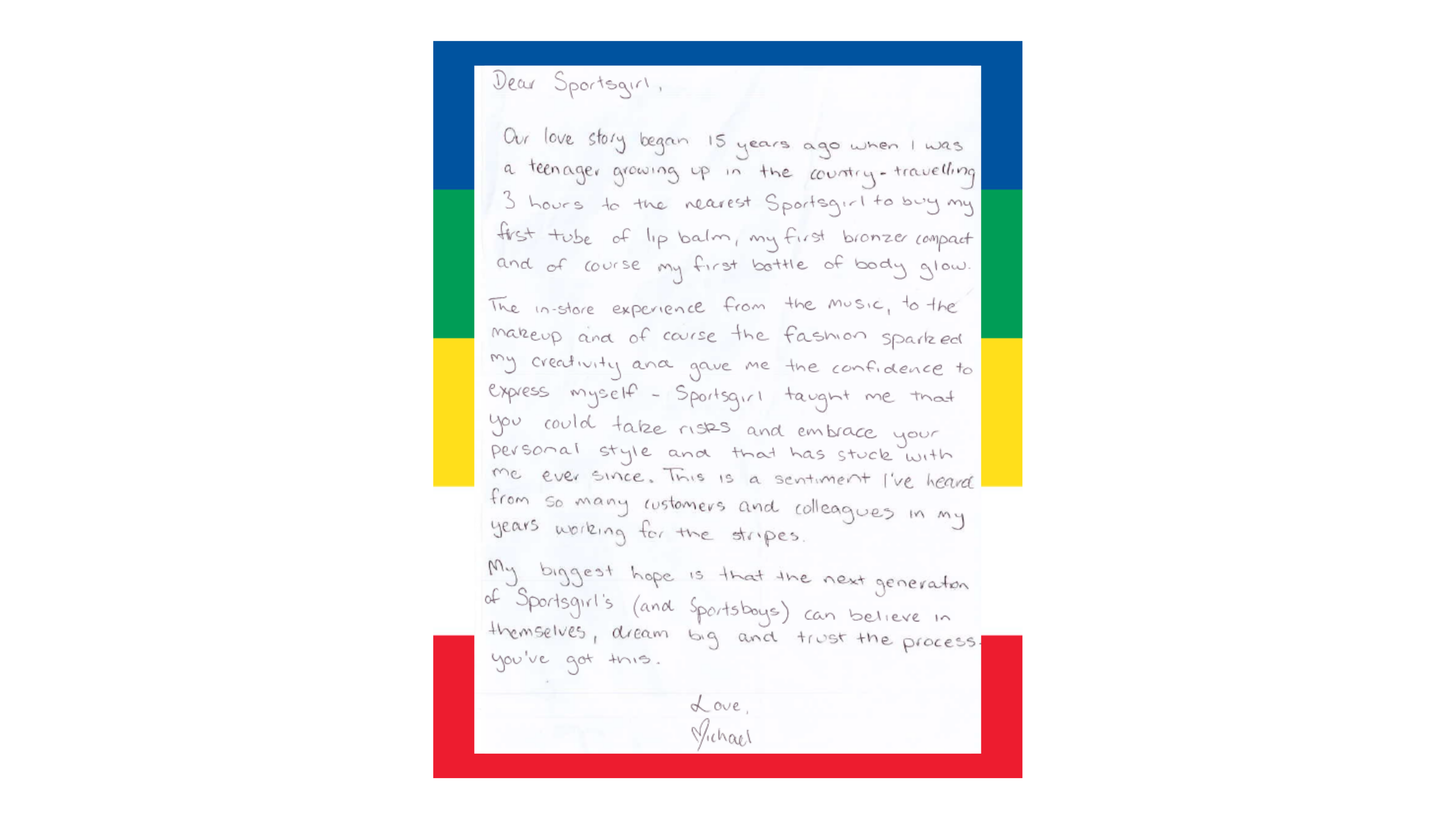 Dear Sportsgirl,
February is the month of love and I wanted to let you know how grateful I am for you...
I love to be part of brands who's actions and values align with my own beliefs. I remember Sportsgirl by the iconic blue, green, yellow, white and red colours. Just something about Sportsgirl made it stand out from the crowd.
Thank you Sportsgirl for allowing us all to find something unique. I personally loved the crazy nail designs. I also remember looking forward to Christmas where I would recieve a Sportsgirl gift card. And who could forget the famous Sportsgirl duffle bag which I begged my dad for one. You could get the duffles in your favourite colour or design which I did and stull have to this day.
Thank you Sportsgirl for celebrating individuality.
Love, Kukuwa x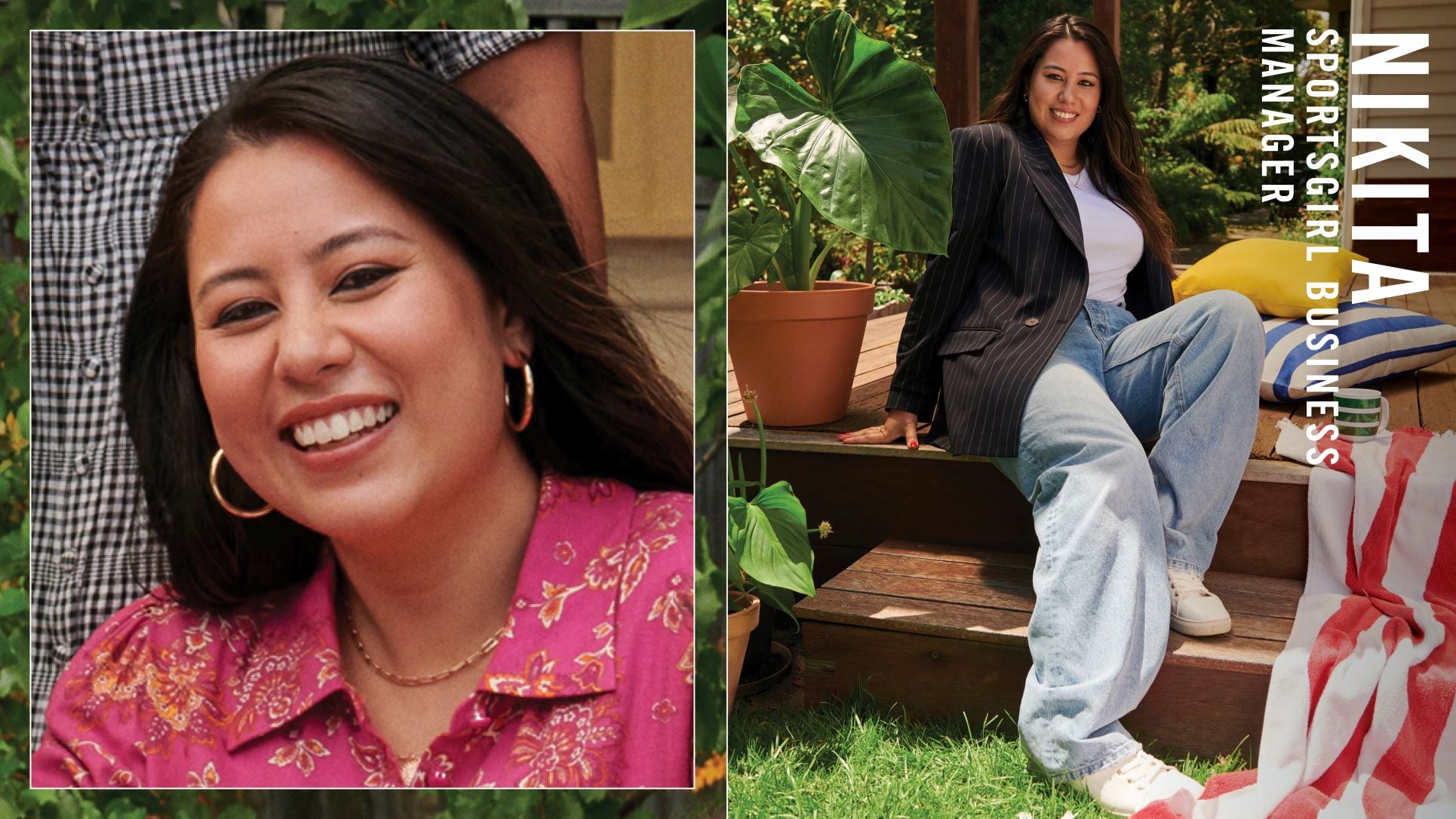 Dear Sportsgirl,
I love you.
Thank-you for making my time here challenging, purposeful, fun and memorable.
Thank-you for giving me the opportunity to learn, grow and push myself to limits I thought were once dreams - not reality.
Thank-you for providing me with a positive, up-lifting, inclusive and safe environment to flourish in.
Thank-you for allowing me to connect with so many inspiring and wonderful people that I know I will have with me for a lifetime.
Sporty G - you are so much more than a job, a store, or a company - you are my home.
Love, Nikita