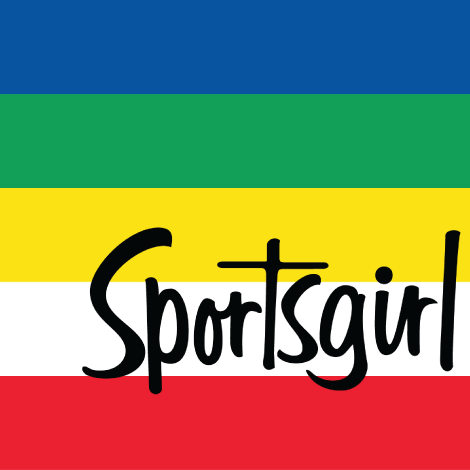 WANT TO JOIN THE STRIPES?
YOU + SPORTSGIRL = AWESOMENESS
Here at Sportsgirl we are more than a fashion retailer – we're a community of passionate, dynamic and innovative team members dedicated to bringing the best in Australian fashion and talent direct to you.
WHY SPORTSGIRL?

It's time to live your dreams. As a team member with us, it is not just about discounts on the latest fashion or our significant list of benefits - you will be joining a business that is committed to supporting and developing you in your career wherever it may take you! Consider Sportsgirl as your foot in the fashion door. We offer amazing career paths and great incentives – our team member discount is only the beginning.
ARE YOU A SPORTSGIRL?
If you are a happy, passionate, customer-service loving girl or guy and helping someone find the perfect outfit is your idea of a job made in heaven then you will love a role with us. And the best bit? We have a lot of fun getting our jobs done!
Click on the Job Search button above to check out what positions are available right now at Sportsgirl and to create a profile. Your profile will be automatically created once you've applied for a position. Once that's done, you'll be able to use these details on the Applicant Login page to apply for future positions or update your details.
You can also sign up for tailored Job Alerts, which means you'll never miss that golden opportunity and we'll never miss out on you – click on the Job Alerts button for all the details.
WHAT DO WE OFFER?
Join a Retail Leader
Sportsgirl is more than just a store – the stripes are a part of modern Australian youth culture. Whether you are in one of our 113 stores or connecting with our rapidly expanding online community, you will know that Sportsgirl is at the forefront of Australian fashion and culture.
Did someone say great benefits?
We are committed to providing all of our team members with a great working environment – one that will grow with you through all your different work/life/study requirements.
We offer benefits such as:
Flexible work hours

Event participation

Great store Incentives and bonus program

Amazing staff Discounts

Career progression

Talent Development and training

Conferences and Season Launches

Team member referral incentives

Corporate Health Insurance
Live your dreams
We support our awesome team members in developing the skills, experience and confidence they need to take on the world. We regularly have positions in a range of diverse roles within fashion areas ranging from Retail Operations (which includes the shop floor to multi-site management) to Visual Merchandising, Buying, Planning, and Marketing/PR for motivated and talented individuals. Our commitment is to recruit from within wherever possible.
Whatever your goal – Sportsgirl is more than a job; it's your dream career!
LEARN FROM THE BEST
Our team members are trained and developed by the very best retail talents Australia has to offer. We offer mentoring, group and online training programs that are just like us – fun, inspiring and innovative.
All our new Team Members will go through an initial training plan – supported by regular discussions with your Manager. As your career progresses, you will be invited to take part in our Management Development training, state meetings and conferences to support and develop you in achieving your goals.
Ongoing Support

Your Manager will work alongside you to ensure you feel supported in your work. You'll have regular catch-ups with your Manager and ongoing training and development in store. There is always something new to learn!
Events, Conferences & Celebrations
Why not? We have a lot to celebrate! From our seasonal fashion parades to national conferences, we love getting together to share ideas and experiences and learn from each other, and we will always offer new training and incentives in all the important areas of your role.
Team members are go!
Opportunities? Tick. Training? Tick. Support? Tick. Career? Tick! Whatever you hope to do, we are committed to helping you get there, and making your dream career a reality.
THE LOWDOWN
Your Profile
So, you want to join the stripes? Set up a profile and upload your resume. This online profile is your hot ticket to our Jobs section, complete with a login and password so you can keep checking back. Remember to answer all the questions when you first set up your profile. You can log back in at any time to update or change your deets. Easy!
We Won't Forget You!
Don't worry about being forgotten. Your info will stay in our database and is the first place we look when we're on the hunt for new team members.
What are we looking for?
Secured an Interview? Hooray!
We are always on the lookout for passionate team members who genuinely love working with people and customers.
Our hot tip is to just be yourself and don't forget to smile – after all, we may be looking for someone exactly like you!
JOB SEARCH
To start your search, enter your dream job criteria here. Already created a job profile? Login here to access your application.
THE NITTY GRITTY
This information is being collected solely for the purpose of recruitment and assessing your application for employment. The information will not be used for any other purpose or disclosed to any organisation during the recruitment process, unless required by or authorised by law.
Need to know more? Be sure to check out our full terms and conditions here.